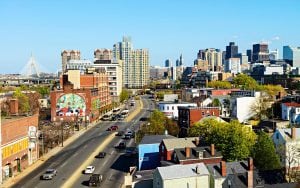 If you are ready to start your next home buying venture by viewing available Cambridge MA real estate listings, why not choose an award-winning real estate company to guide you throughout the process? The Attias Group has been voted the number one boutique real estate firm in all of Massachusetts, and is ready to help you find your next dream home in Cambridge MA.
History, Culture, Family
If Cambridge could be summed up in three words it would be: history, culture and family but it also can be a little nerdy. You want to see cool stuff like holograms and robots? How about geeky college memorabilia? Why all the beavers, and what, exactly is a brass rat? Find out within the hallowed halls of the MIT Museum in Cambridge MA.
With a unique combination of diverse eateries and cultural activities, there is something for everyone in Cambridge MA. Whether you have a craving some vegan Asian cuisine, or a slice of pizza from a family-owned pizzeria, Cambridge has the restaurant for you! After dinner, go see a movie in the city's historic cinema, or take a walk on the Minuteman Trail.
Cambridge is also quickly becoming known as one of the fastest growing cities for families. With excellent parks and school systems, your children will have the best opportunities to thrive. But they'll also have a never-ending list of fun activities to keep them occupied.
Finding Your Home
The Attias Group is ready to help you find your next home among the enviable Cambridge MA real estate listings. When you find a home in Cambridge, you are buying a piece of history. However, that doesn't mean that the amenities can't be modern.
Let the Attias Group help you find a historic home with all the modern necessities. Our real estate agents are trained to utilize the most progressive realty strategies, which provide our customers with a wide variety of options that are within their budget. Contact us today to see some of the best Cambridge MA real estate listings available on the market!