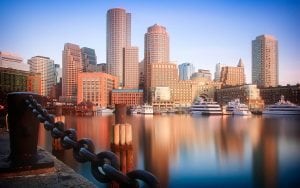 The knowledgeable, committed and friendly real estate agents at The Attias Group are ready to show you some of the amazing Lexington MA homes for sale today!
Why Lexington
When you enter Lexington, it feels like you are stepping back in history to a time where life was a little slower and simpler. Founded in the 17th century, current residents of Lexington share and celebrate in the town's historic past. In fact, Lexington is the location of several historic landmarks of the American Revolution. Your family could regularly spend time at the Lexington Green, which was the site of the first battle in the American Revolutionary War. Or visit the Buckman Tavern, which served as a wartime meeting place.
However, Lexington isn't necessarily stuck in the past. The town offers a unique and exciting mix of historic and modern architecture, which provides a plethora of options for individuals and families looking to find their dream home in the Lexington area.
Ready to Relocate?
Are you ready to relocate to Lexington, MA? Let the number one locally-owned Massachusetts boutique real estate group find a home that will meet your family's needs and stay within your budget. Our real estate agents are committed to nothing short of excellence. We will provide you with individual attention to make sure you have an opportunity to express your ever-evolving real estate wish list!
The Attias Group is well known for our expertise in real estate advice, thorough analysis of data, negotiation skills, innovative marketing strategies, and being committed to the customer experience. We know that buying a new home and relocating to a new city or town can be stressful and nerve-racking! Finding a home that is right for you and your family is a partnership. The Attias Group is here to make sure that our work together is the essence of collaboration and intentionality.
Contact us today and ask us about Lexington MA homes for sale, and join the growing body of satisfied customers that have chosen The Attias Group to find their dream home in Lexington, MA.