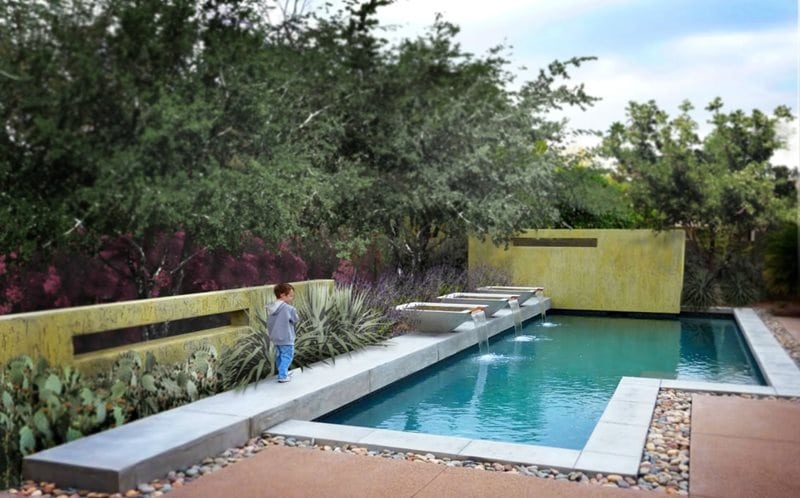 If you are considering investing in a pool for your yard for next year, read this!
Does a Pool Add Value to a Home? Diving Into the Pros and Cons
By Terri Williams | Sep 11, 2018
There's nothing like diving into a crystal-clear swimming pool on a hot day. To many homeowners and buyers, a pool is a plus—an upscale amenity that will enhance your life and make your home desirable to prospective buyers in the future. But the thought of swimming laps in the privacy of your own backyard may distract you from the realities that come with owning a pool, particularly the increased liability and maintenance costs.
Some home buyers think an in-ground pool is a bonus, while others consider it a deal breaker. But does it add value to a home? The answer depends on several factors.
Average cost to install a pool
When it comes to installing an in-ground pool, the average cost will be between $35,516 and $65,067, according to Dan DiClerico, a remodeling and home expert at HomeAdvisor.
The initial average cost of a concrete pool is $40,000, while a vinyl pool is about $30,000. And a fiberglass pool is even cheaper, at approximately $28,250. DiClerico says there are other factors, like the size of the pool, that determine the cost of building an in-ground swimming pool.
Cost of swimming pool maintenance
If you're toying with the idea of buying a home with a swimming pool, you'll want to know how much it's going to cost you to maintain it. DiClerico says homeowners will pay an average of between $1,200 and $1,800 in annual upkeep.
Opening your pool, which includes removing the cover, reassembling the filter system, cleaning and testing the water chemistry, and refilling the water, typically costs between $150 and $300. However, he says, this cost could be higher if your pool is dirty and requires extra labor and chemicals.
Closing and winterizing the pool also falls within the $150 to $300 range.
"Monthly maintenance could cost anywhere from $80 to $150 a month, depending on the services," DiClerico explains. "On the lower end of that amount, pool service professionals will test the water's pH, and also check the filters, settings, and equipment." The upper end of that amount also includes such services as brushing down the surface, vacuuming, skimming (which involves using a mesh net attached to a pole to remove floating debris), and emptying traps and baskets.
If you decide to maintain the in-ground pool yourself, DiClerico says you'll spend at least an hour a week doing so, and will likely need the following:
Chlorine to neutralize harmful bacteria: $60 to $70 per 25 pounds
Muriatic acid to lower pH levels: $8 a gallon
Soda ash to prevent excess acid: $8 per 6 pounds
Test kit to gauge pH levels: $15
Replacement test kit solutions: $8 a set
Pool skimmer: $7
Vacuum to pick up items missed by skimmer: $20 to $600
Filters (replacement filter cartridge, $7 to $75; replacement filter sands, $12; diatomaceous earth, $20 per 25 pounds)
Pool cover: $600, depending on the material and size of your pool
Occasionally you'll also probably need chlorine to "shock" the pool to eliminate the buildup of ammonia, nitrogen, and other contaminants. The chlorine comes in 24- to 50-pound bags, ranging from $55 to $120.
Insurance costs for pool owners
Having a pool on your property will increase your home's liability, and that will probably raise your home insurance fees. Most policies cover pool-related incidents, but experts recommend increasing your liability from $100,000 to $500,000, which, according to HouseLogic, will cost about $30 more a year.
"Your homeowners insurance will most likely be higher than if you did not have a pool on your property," says Vincent J. Averaimo, a Milford, CT–based civil litigation attorney who handles property litigation. "Accidents around the pool—especially in the summertime—can be catastrophic, resulting in broken bones and even death."
Does a pool add value to a home?
If you're weighing whether or not to build a pool, Averaimo recommends hiring an appraiser to see if it will add value to your property. Ask to have your home appraised as is and then appraised again as if it had a pool.
"More likely than not, the appraiser will look at comparable homes that have a swimming pool and issue a fair market value based on those findings," Averaimo says. "If the home is valued at $300,000 without a pool and $335,000 with a pool—but the cost to install the pool is $65,000—then you know the installation of that pool will not add value to the home."
Knowing these numbers, hopefully it's a little easier for you to weigh the costs and benefits of adding a pool.
At most, your home's value might increase 7% when it comes time to sell, according to HouseLogic. Still, that all depends on a variety of factors: if most of your neighbors have pools, if you live in a warm climate, and if your property is large enough to accommodate a pool.
Still, only home buyers can truly decide how much a pool will add to their quality of life. Do you have children who will enjoy spending summer days playing Marco Polo? Will a pool make the hot months more bearable? Those reasons alone could be enough to justify owning a pool.